17 June, 2020This issue is published in the midst of a pandemic. The economic shutdown caused by Covid-19 lockdowns has thrown the world into turmoil and put unprecedented pressure on workers all around the world. Workers have shown resistance and courage in protecting the health and safety of their members and, as production has slowed down, in fighting to defend jobs and income during the crisis.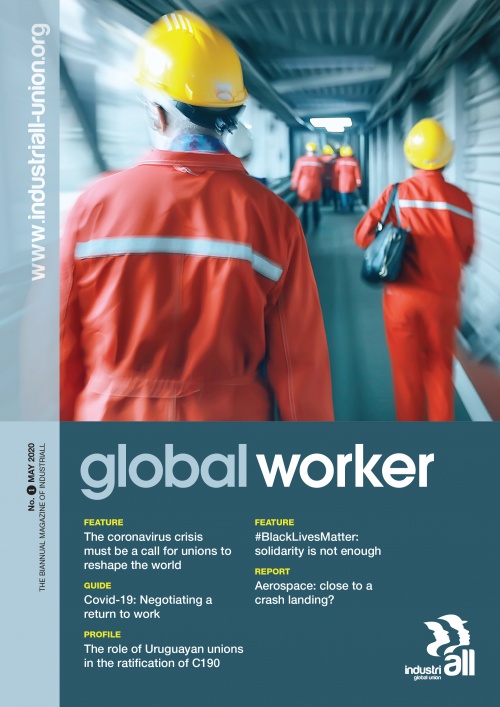 The fight to protect our members is relentless.
Companies are taking advantage of the pandemic to put forward restructuring plans that have little to do with their forecasts for the post-pandemic period. Some of the sectors we represent are facing massive job cuts, like the aerospace sector, which is heavily impacted as air travel has come to a more or less complete stand still. 
The auto sector in Sub-Saharan Africa has potential for job creation with multinational manufacturers setting up production plants across the continent. Unions must be part of the process as industrial policies are being discussed. 
Science, technology, engineering and mathematics (STEM) include a huge range of occupations like software or web developers, computer programmers, database administrators, engineers and many others. Most of IndustriALL sectors are STEM sectors; manufacturing, energy and mining employ a high proportion of people with STEM qualifications. Addressing gender gaps and protecting women in STEM is among one of the most urgent challenges for trade unions today.   
There has been good news as well during these challenging times. In May, Fiji announced its ratification of ILO Convention 190 on Violence and Harassment in the World of Work. Uruguay was the first country to ratify the convention, and the union played a big part in the process leading up to it.
When we come together we win, and international solidarity can make a difference
Turk Metal in Turkey fought hard to arrive at the negotiating table for a collective agreement at an auto parts production plant; through pickets, rallies and national and international solidarity they persevered.   
As parts of the world are slowly coming out of lockdown and workplaces reopening, it is imperative that the return to work is safe. Unions are involved in negotiating a safe return to work, with health and safety as main priorities. Herewith we are launching a guide that also compiles best practices from our unions around the world.
The pandemic is changing the way we work, in some cases accelerating changes that were already under way. 
It is time for us to strengthen global solidarity to keep defending the health and safety, jobs and income of our members and to reshape the future.
Stay safe, and stay united in solidarity.  
Valter Sanches
General Secretary