11 April, 2019Unions from around the world at the world's largest steel company ArcelorMittal resolved at a meeting in Rio de Janeiro to deepen their global relationship with the company to address continuing challenges.
Fifty leaders from unions at ArcelorMittal in 15 countries meeting on 8-9 April 2019 adopted a plan of action and called for IndustriALL Global Union to approach ArcelorMittal global management to begin discussions with the aim of achieving a Global Framework Agreement.
This was the second meeting of the ArcelorMittal Global Union Network, which was founded in Luxembourg in July 2018.
Participants discussed developments since the first meeting of the network. These include an improvement in ArcelorMittal management's approach to industrial relations in Kazakhstan and Ukraine, from provoking conflict to supporting positive industrial relations.
Meschack Robertsons of NUMSA provided an update on the strike at ArcelorMittal in South Africa, where the union is demanding permanent jobs for contract workers and equal pay for work of equal value.
The meeting was shocked by a report from USW about resistance to attempts by workers at an ArcelorMittal joint venture in Calvert, Alabama, USA to organize with USW. The network unanimously passed a resolution condemning the anti-union campaign being waged by local management. The resolution urges ArcelorMittal global management to ensure that local management respects an agreement that ArcelorMittal will remain neutral when its workers attempt to organize with USW.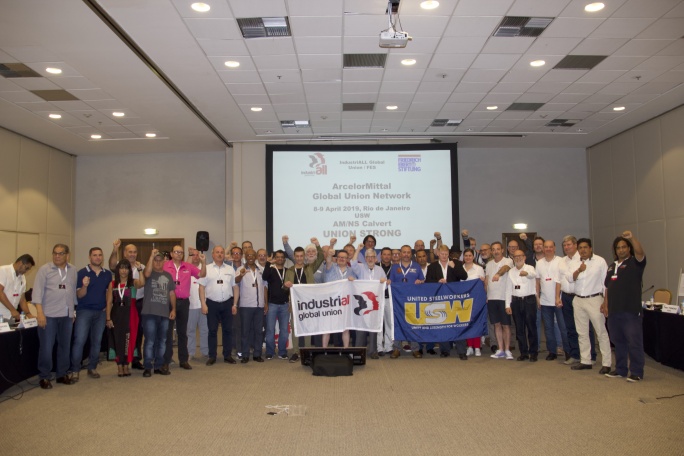 ArcelorMittal head of human resources for South America Adriani Damazio spoke at the meeting and addressed questions and comments raised by participants. Damazio expressed the company's commitment to working collaboratively with unions and reported on steps ArcelorMittal is taking to empower women and other historically underrepresented groups within the company.
Brazilian unions raised concern that ArcelorMittal has not collaborated with them to address challenges presented by the Brazilian government's recent weakening of labour legislation and called on the company to take the high road in industrial relations and collective bargaining.
The network discussed opportunities and challenges presented by Industry 4.0. Participants concluded that ArcelorMittal must be more inclusive of unions in this change process.
The meeting also included a panel discussion about women's participation in the network. The network decided to make gender equality an agenda item in all its meetings, to include gender issues on the agenda of dialog with the company, and to strive for more female participation in these meetings.
Stated IndustriALL assistant general secretary Kemal Özkan:
"We appreciate the participation and support provided by ArcelorMittal for this meeting, and we commend ArcelorMittal for its role in recent improvements in industrial relations in Ukraine and Kazakhstan. However, significant challenges remain. We believe that global social dialogue is essential to addressing those challenges, and that this can best be achieved through ArcelorMittal entering into a global framework agreement with IndustriALL Global Union."