10 September, 2019Workers at Kumho Tire, in Macon, Georgia, have voted to join IndustriALL Global Union affiliate, the United Steelworkers (USW), after a judge ruled the company had violated workers' rights during an initial election two years ago. 
Some 141 workers voted for the USW with 137 against in the election on 5 and 6 September. There are still 13 challenged ballots to be resolved at an upcoming hearing at the National Labor Relations Board (NLRB) before the election results are official.
Kumho Tire, which supplies tyres for auto companies such as Chrysler, Hyundai and Kia, has spent hundreds of thousands of dollars on union-busting consultants in an effort to prevent USW from organizing the tyre plant.
After narrowly failing to win the first vote in October 2017, the USW filed a complaint to the NLRB accusing the Korean-owned company of illegal conduct in its effort to suppress the union.
IndustriALL and in particular its affiliate, the Korean Metal Workers' Union (KMWU), which represents over 3,500 Kumho Tire workers in South Korea, have supported the Macon workers in their battle for union representation both before and after the October 2017 election.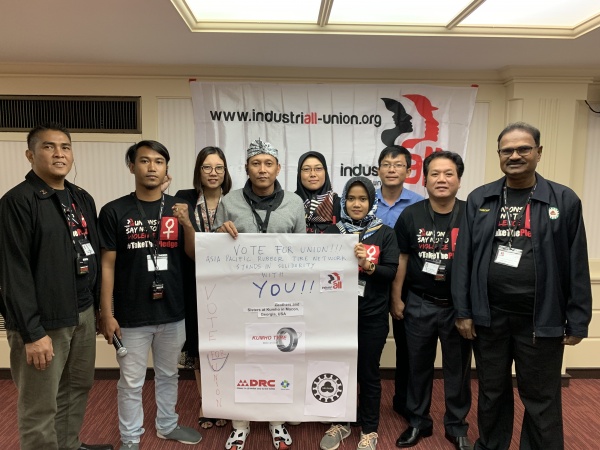 In a ruling in May 2019, Administrative Law Judge Arthur J. Amchan wrote that the company's illegal conduct was "pervasive" and that it warranted not only a new election, but the "extraordinary" remedy of requiring company officials to read a notice to employees outlining all of the violations.
Kumho's violations, Amchan said, included illegally interrogating employees, threatening to fire union supporters, threatening plant closure, and creating an impression of surveillance, among other threats to workers.
Although more than 60 per cent of the workers signed cards for a second election, Kumho management put pressure on workers not to unionize second time round, imposing one-to-one worker interviews with anti-union consultants who were paid US$12,000 per day in the run up to the September election.
"Too often companies try to bully and intimidate workers who simply want to exercise their right to bargain collectively," said USW International President Thomas M. Conway. "That is simply a losing strategy. Rather than fighting their own workers, employers should work with them to build a better future for everyone."
IndustriALL's general secretary, Valter Sanches, said: 
"We congratulate USW on this result and due respect must be given to workers who bravely stood up for the right to join a union against a history of threats and intimidation from the company. We urge Kumho Tire management in Macon to recognize the vote and work with USW representatives to secure a fair contract."