The OECD Guidelines for Multinational Enterprises, although not legally binding, are one of the few international instruments available to trade unions to help secure respect of international labour standards by multinational enterprises (MNEs). 
The Guidelines were considerably strengthened in the 2011 Update through the inclusion of key elements of the UN's work on business and human rights and further aligning the chapter on employment and industrial relations with the ILO MNE Declaration. As a result, the Guidelines clearly apply to workers in indirect employment relationships and in the supply chain.  
Governments that sign the Guidelines are required to set up National Contact Points (NCPs), which have a responsibility to help resolve complaints of alleged breaches of the Guidelines.
 
The Guidelines can be used to defend the trade union rights of employees, contract workers and workers in other parts of the supply chain. Most trade union cases submitted under the Guidelines concern the rights of workers to form or join trade unions and to bargain collectively, but also a range of other issues including precarious work, disclosure of information, forced labour, discrimination, health and safety, the environment, and corruption.  
The Trade Union Advisory Committee (TUAC) to the OECD has developed a guide - Trade Union Guide to the OECD Guidelines for Multinational Enterprises - to help trade unions to use the 2011 Guidelines in their workplaces and in their campaigns to defend workers' rights and improve living and working conditions. It also contains a trade union checklist.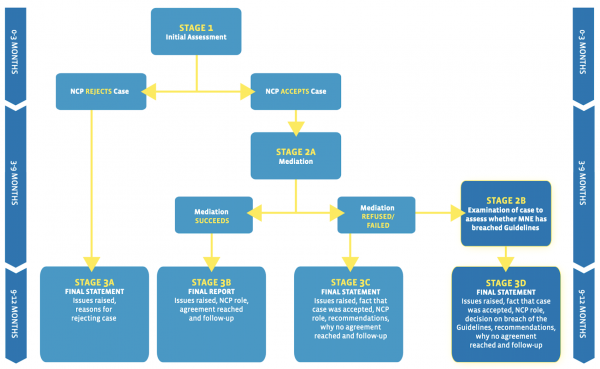 The OECD Due Diligence Guidance for Responsible Business Conduct offers valuable information on due diligence and remediation mechanisms.