14 October, 2022In a webinar, IndustriALL Global Union and industriAll Europe pledged to fight the rising inequality and cost of living crisis by building trade union power and increasing union density and bargaining power. Both organisations are mobilizing this autumn.
As inequality in the world is increasing, it threatens to tear apart the social fabric of our societies. Fewer people earn more and own more of the world's wealth, while the poorest people earn and own a mere fraction.
Despite many governments saying they recognize this huge challenge, none has managed to turn the tide. Inequality is still increasing everywhere, which is why IndustriALL has launched a campaign, United for a Just Future – Time to Pay Up!, to highlight the building blocks needed for a just future.
Unions across Europe have started mobilizing for higher wages to combat inflation and the growing cost of living crisis, with many European unions pushing for bold pay increases. As many bargaining rounds this autumn promise to be difficult, trade unions at national, European and international level are getting ready for action. Trade unions affiliated to industriAll Europe have joined forces in a campaign called Together. In action. For Higher Wages.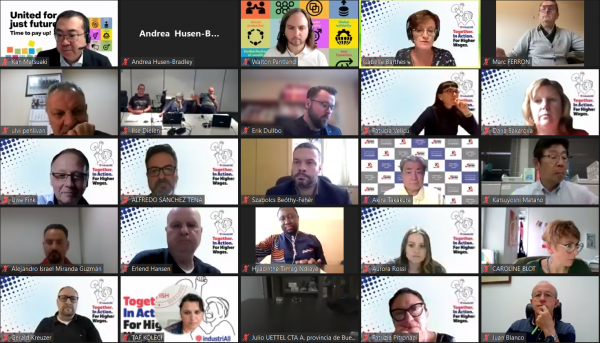 "Unless we, the unions, take action, we risk losing the gains we have made over the past century. Workers everywhere need a pay rise that reflects the inflation rate and the sacrifices made during the Covid pandemic; they need wages that reflect their essential part in value creation. Inequality and decent wages must take centre stage,"
said IndustriALL assistant general secretary Kan Matsuzaki.
Isabelle Barthès, deputy general secretary at industriAll Europe, said:
"Our economic future is again uncertain, but the great majority of companies are still doing undeniably well. This is the result of workers' hard labour during the pandemic, and they need to be compensated. This will contribute to social stability and prepare for economic recovery.

"However, wage tools are not enough. Actions on the energy crisis - the root cause of inflation - must come with public intervention to tax windfall profits and anti-crisis measures to protect purchasing power and jobs."
Ronald Janssen, senior policy advisor at TUAC, stressed that the rising levels of inequality are a threat to democracy. A skyrocketing inflation erodes the real value of minimum wages, which is a double blow for low-paid workers, as rising energy and food prices hit them harder.
According to Janssen, the answer lies in upgrading the collective bargaining and wage formation systems. And looking at past experiences is the way forward; we can solve this together. Union density is key for the strength needed to fight inequality.
"Unions can be the answer,"
Janssen said.
"If you want us to act in a responsible way, we need to know that we get our fair share of the recovery. We can strike a balance of wages, but a balance that protects lower income wages, promote collective bargaining, so that we can be in a stronger position at the table once the crisis is over."
In the discussion that ensued, participants shared experiences from around the world. The importance of new working time arrangements that facilitate a work-life balance was also pointed out in relation to decent working condition.
Moving the campaign forward, the joint demands include
Sectoral collective bargaining
Decent wages, with a pay rise for all workers
Fair taxes on companies and the wealthy
Support for workers affected by the cost of living crisis
Just Transition as a key mechanism for reducing inequality
Fundamental workers' rights
Due diligence legislation